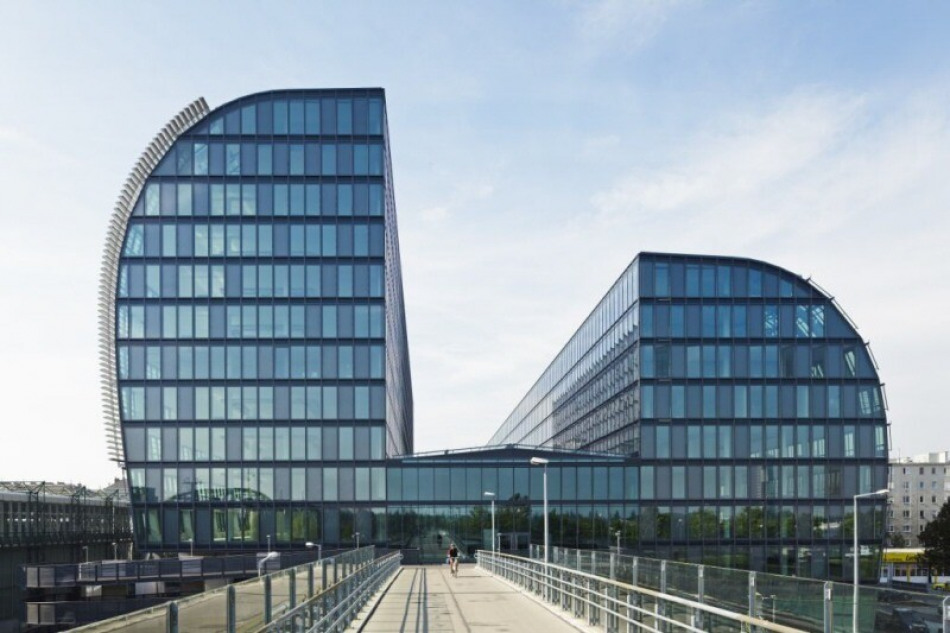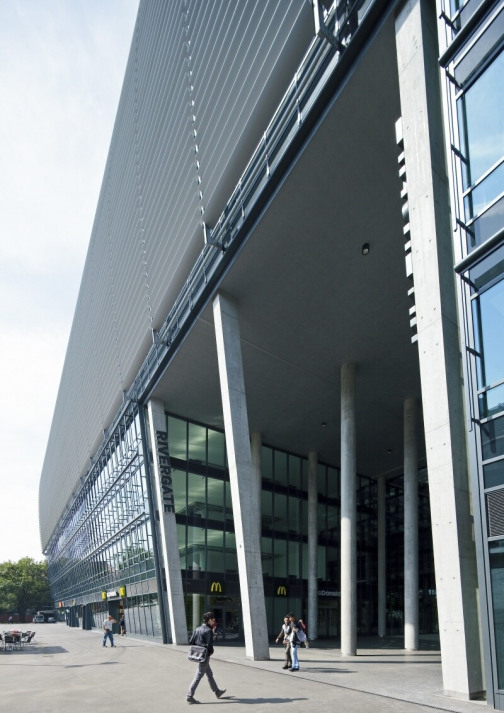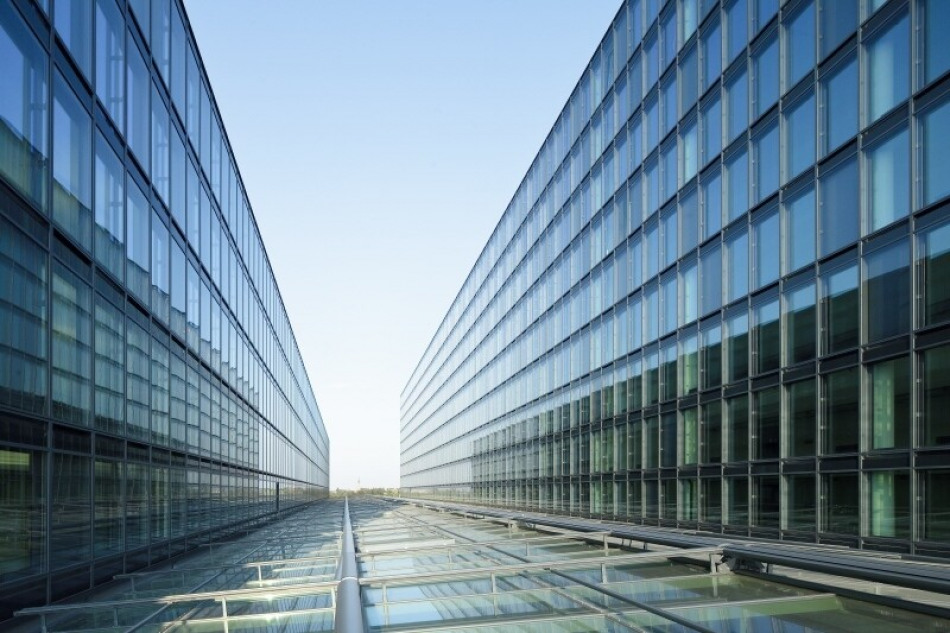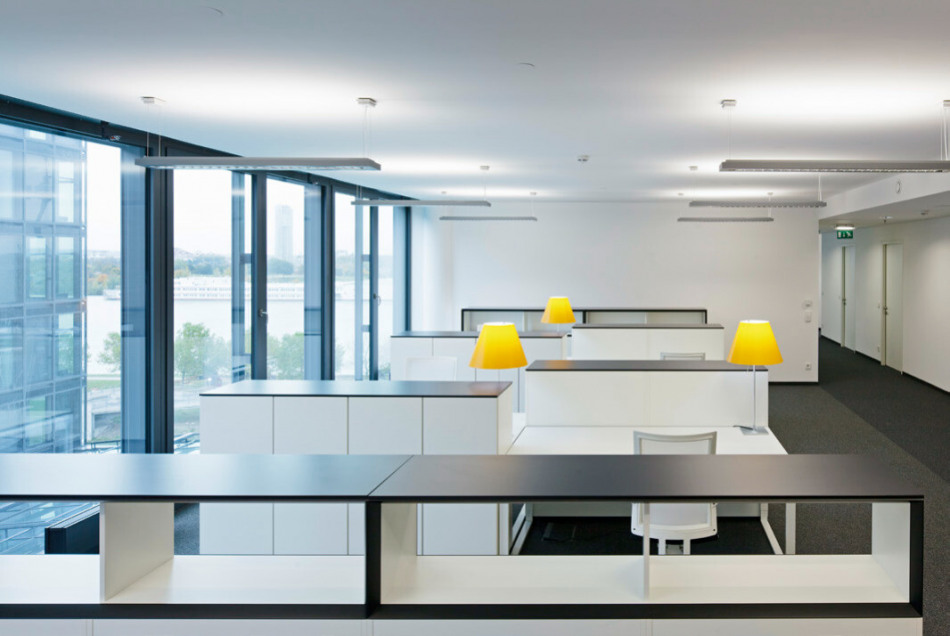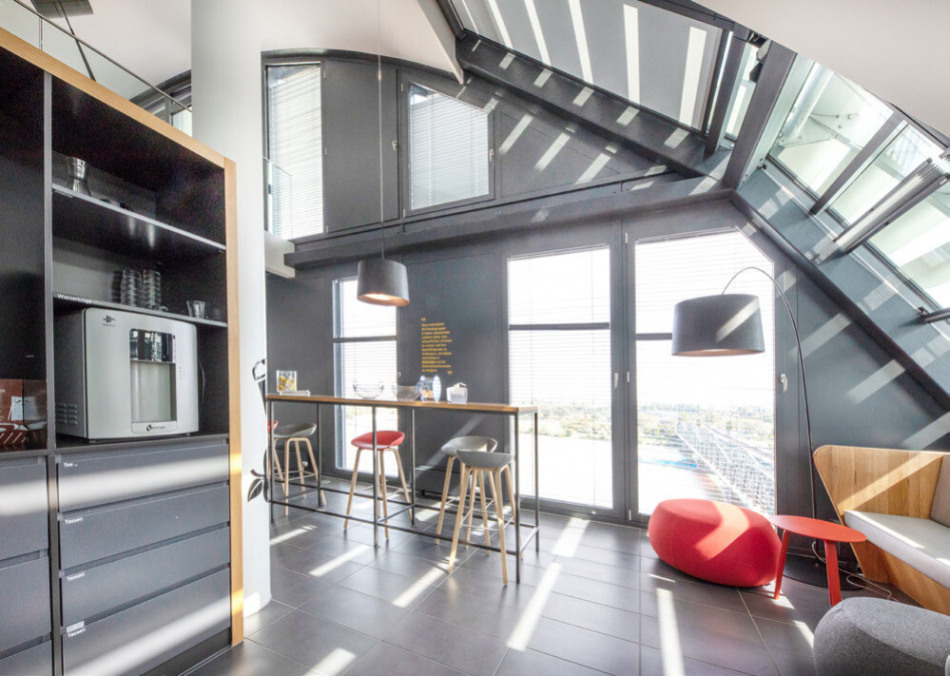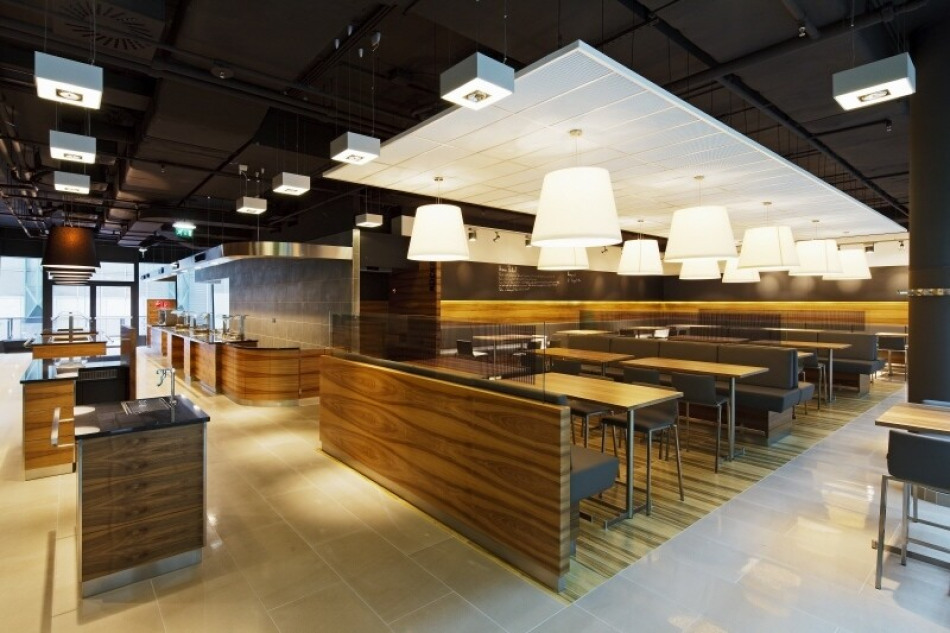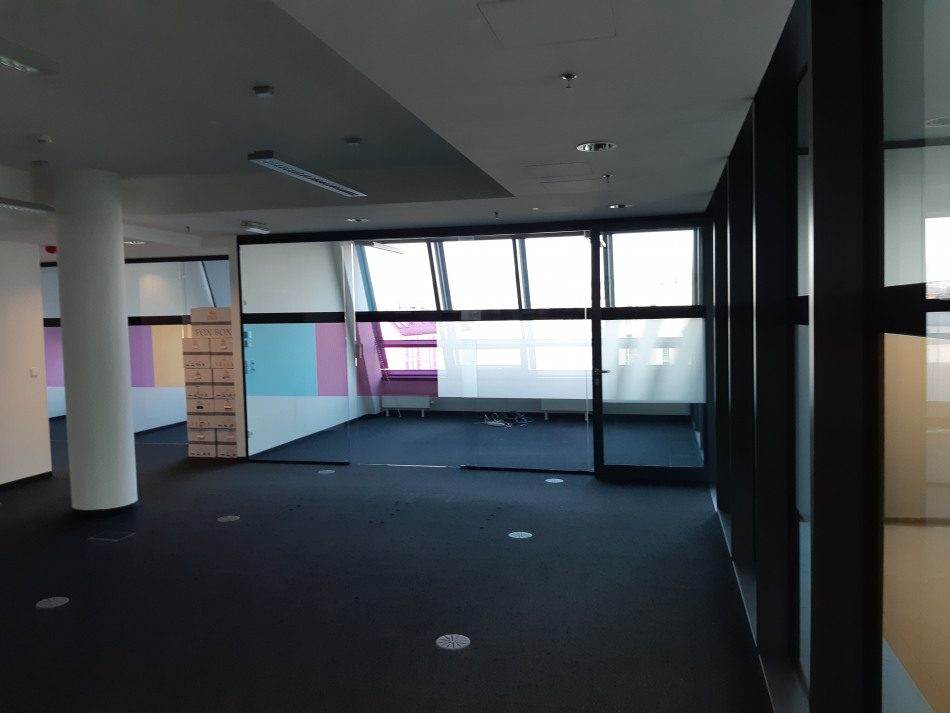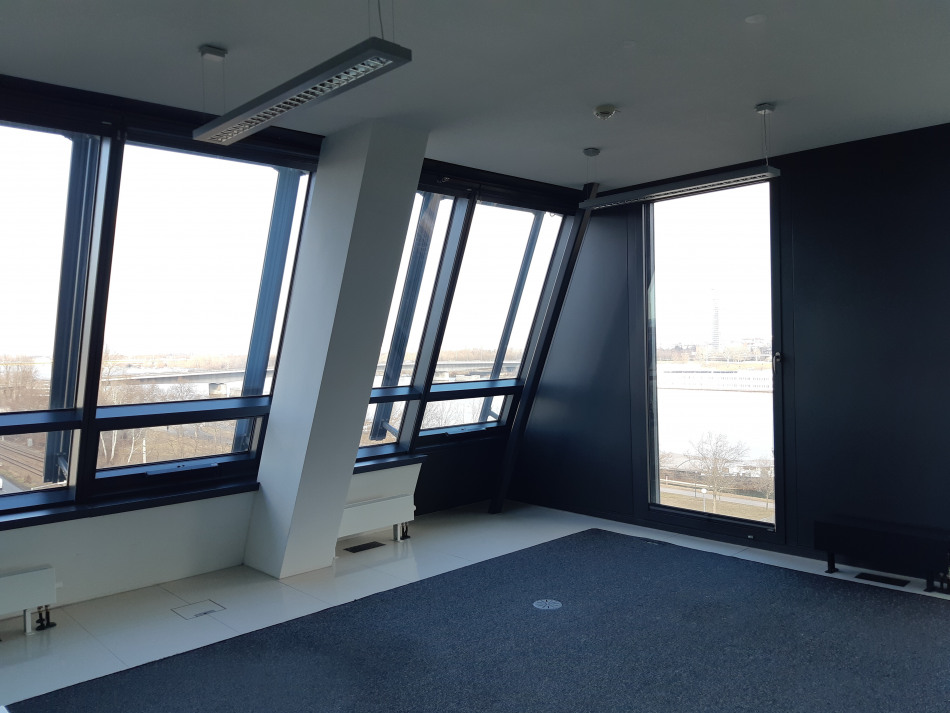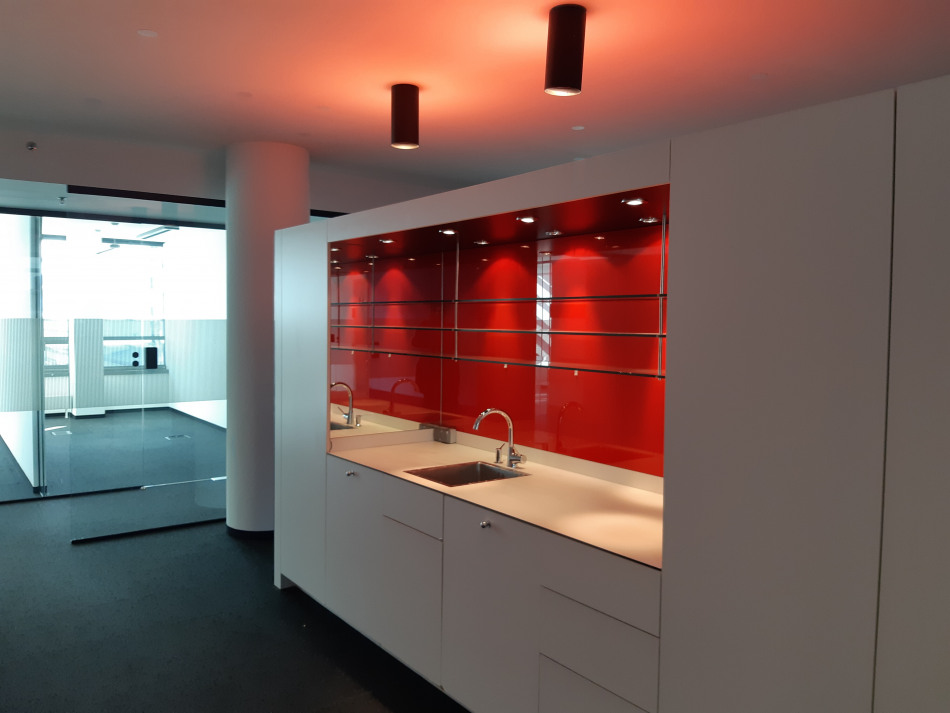 Available space
| Floor | Space | Rent / m2 | Property number | |
| --- | --- | --- | --- | --- |
| 1. OG | 1.131,74 m2 | € 14,90 | 8130/29 | |
| 1. OG | 385,00 m2 | € 14,50 | 8130/34 | |
| 10. OG | 301,00 m2 | € 17,60 | 8130/33 | |
| 10. OG | 649,52 m2 | € 17,60 | 8130/37 | |
| 10.OG | 950,00 m2 | € 17,60 | 8130/38 | |
| 4. OG | 659,00 m2 | € 15,90 | 8130/31 | |
| 5. OG | 1.280,10 m2 | € 15,50 | 8130/21 | |
| 5. OG | 976,00 m2 | € 15,90 | 8130/32 | |
| 9. OG | 1.329,76 m2 | € 17,60 | 8130/36 | |
| 4. OG + 5. OG | 1.634,45 m2 | € 15,90 | 8130/35 | |
Description of property
Jedes Geschoss im RIVERGATE, mit einer Mietfläche von ca. 2.500 m², kann in bis zu 8 Mieteinheiten individuell unterteilt werden. Die kleinste Teilung entspricht in etwa 290 m2. Optional besteht auch die Möglichkeit, interne Treppenverbindungen in übereinanderliegende Geschosse einzubauen. Wahlweise werden die Büroflächen entweder mit einer hochwertigen und schlüsselfertigen Standardausstattung oder mit einer genau nach Ihren Bedürfnissen gefertigten Sonderausstattung übergeben.
Vom Einzelbüro über Zweier- oder Gruppenbüros bis hin zu einer offenen Raumlösung – im RIVERGATE kann jede Raumstruktur je nach Bedarf individuell umgesetzt werden. Selbstverständlich falls gewünscht mit integrierten Drucker- und Archivzonen. Auch Sondernutzungen wie eine Cafeteria, Meeting-, Server- oder Ausstellungsräume werden für Sie realisiert.
Durch optimierte Grundrisse und unterschiedliche Raumtiefen sind die Büroflächen äußerst flexibel und effizient gestaltbar. Die durchgehende Glasfassade ermöglicht einen herrlichen Rundumblick, das schonende Energiekonzept sorgt für mehr Wohlbefinden am Arbeitsplatz.
Ausstattung:
Repräsentatives Entree "Donau Atrium"
Öffenbare Fenster
Sonnenschutz und Blendschutz
Doppelboden inkl. Bodentanks
Hochwertige Teppichfliesen
Leichtbauwände
Ergonomisches Beleuchtungskonzept
Teeküchen (Anschlüsse vorbereitet)
LAN-Raum (Anschlüsse vorbereitet)
Sanitärgruppen
Haustechnik:
Mechanische Be- und Entlüftung
Energiesparende Bauteilkühlung und Heizung
Sprinklervollausstattung
Notstromversorgung
Alarm- und Überwachungssysteme
Moderne Zutritts- und Sicherheitssysteme
Infrastruktur:
RIVERGATE Conference Center
RIVERGATE Massage & Medical Center
canteen Mitarbeiterrestaurant, McDonalds, McCafe, Backwerk, Bill, Bipa, Klipp Friseur, Tabak Trafik, E-Tec
Zutrittsgesicherter Fahrradraum mit Garderoben und Duschen
Besondere Merkmale:
LEED Zertifikate (EU, U.S. LEED in Platin)
Erdwärme- und Grundwassernutzung
Portier und Bewachungsdienst
24h technischer Bereitschaftsdienst
Verkehrsanbindung:
U-Bahn: U6 Station "Handelskai"
Schnellbahn: S1, S2, S3, S15, S45
Buslinien: 5A, 11A
Individualverkehr: A4, Donauuferautobahn, Südosttangente, Handelskai
Wir weisen darauf hin, dass zwischen dem Vermittler und dem Auftraggeber ein wirtschaftliches Naheverhältnis besteht. Der Vermittler ist als Doppelmakler tätig.
Costs & Key data
| | |
| --- | --- |
| Type of property | Bürofläche |
| Property number | 8130 |
| Area | 7.662,12 m2 |
| Total space | 7.662,12 m2 |
| Office space | 7.662,12 m2 |
| Energy class | B |
| Heating requirements | 45,62 kWh per m2 |
Furnishings
Teeküche
IT-Verkabelung Cat 5
inquiries
Similar properties
Whether you are looking for a functional small apartment or a prestigious older building - our team would be happy to help you with your search.